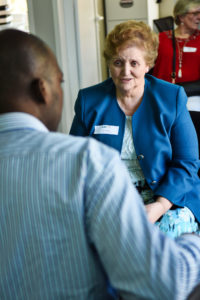 It's co-ops fortnight and we want to celebrate the work of housing co-ops and the people involved to showcase the difference co-ops make to people's lives!
Theresa, now the Chair at Senacre Housing Co-op had a difficult journey before she moved to Senacre, but always remains grateful to the co-op for giving her a home and such a warm welcome. Today, Theresea strives to give others this same sense of support and family when they move in.
Theresa grew up in Kensington before moving to France for work, where she lived for 28 years. In 1995, Theresa moved back to England quite suddenly and found herself homeless. Most of her family were living in different parts of Europe, so she moved to Stablehurst in Kent, where her cousin worked and found her a job as a Nurse in a nursing home.
For a while Theresa lived in a bed & breakfast but as she worked nights, the bed & breakfast became unhappy that she was there during the day. Theresa had nowhere else to go, so she spent every day sitting in the local train station waiting room before going on night duty at the nursing home. Theresa said, "the train controllers wife used to bring in soup to keep me warm in winter, she was nice to me". Some nights Theresa stayed at her mums, but conflicts with the neighbours meant this stopped being possible, and not wanting to cause trouble Theresa carried on passing the time in between shifts hauled up at the station.
This all changed when exhausted from the strain Theresa fainted at work, "They told me to go home and I told them I had nowhere to go, I was humiliated".Her work colleagues showed Theresa kindness and support and the Matron at the home offered her a granny flat for £50 a week. Sometime later a friend of her landlord, told Theresa about Senacre Housing Co-op which had a vacancy coming up. Theresa went for an interview at the co-op, she was approved by the co-op committee and after 2 years of being homeless she was able to move in! Theresa said,
 They gave me a home I never had, I was so grateful for what they did for me, they were ever so kind.
Senacre Housing Co-op is an independent co-op managing much of the day to day running themselves with some service provided by CDS. Theresa joined the co-op committee at Senacre when she moved in to support the running of the co-op and to give something back as she says;
I've tried to pass this kindness on to new tenants.
Over the years she has dedicated a huge amount of time and energy into running the co-op where she lives taking on the vacant role of secretary initially and later becoming maintence lead, treasurer and today Theresa is chair of the committee. Theresa also sat on the CDS housing services sub committee, and was chair for a number of years, working with tenants of other co-ops to review CDS services to co-ops. Theresea went on to become a board member for both CDS and CCH (Confederation of Co-operative Housing). She has contributed a huge amount to not only her own co-op, but supporting services to other co-ops and championing the wider co-op movement.
Co-ops as a type of Community-Led Housing, often have close knit communities which brings social benefits to residents. Theresea talks about the community feel at Senacre which she values and see's as an important part of living in a co-op,
Everybody gets on with everybody, people are very kind. Everyone helps the elderly when it's cold if they need shopping. It's one big family.
When it comes to business and the running of the co-op however this is not a family affair. Theresa has one rule at committee meetings "you must leave your friendship at the door, and collect it afterwards!", this enables the Senacre Co-op committee to have open and honest discussions, without impacting their friendships.
Theresa is an inspiring women in co-op housing and has dedicated a huge part of her life to ensure the running of the co-op she calls home is efficient and people feel the same warm welcome she did when moving in 21 years ago. She values kindness, above anything and works hard to pass the kindness she received forwards.
Nurain at CDS, who works alongside the Senacre committee says:
Theresa has always been involved in the running of the co-op for over twenty years of living at Senacre. She has also served in various positions on the committee but mainly as Chair for many years. One of her initiatives amongst others is the building of a Co-op community hub which has served as the focal point for residents. Theresa is always "the go to person" of the co-op, she really cares and does so much for her fellow co-op members particularly the elderly.