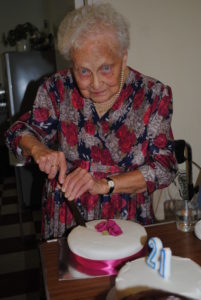 Rosa Wright, at 99 years old, is an inspiring woman in co-op housing, who has dedicated the past 27 years to helping the management of the housing co-op where she lives. Rosa had previously worked for 40 years as a Civil Servant at the Home office, for which she received an MBE for her long service and outstanding contribution. Rosa then went onto to work as a Warden for the Christian Alliance for 10 years before moving to New Cut-Housing co-op, in South East London, where she retired in 1991.
New Cut Housing co-op was built and set up as a co-op in 1991 by founder members alongside backing from South London Family Association. Rosa described the founder members, as "determined and interested in doing good, which they did". New Cut became a fully mutual independent housing co-op shortly after it was set up, meaning all tenants are members of the housing co-op and have a say in the management and running of the co-op.
Rosa didn't know a lot about co-op housing when she first moved to New Cut but she soon became interested and involved in the running of the co-op. Rosa recalls when she joined the committee at the first management committee meeting in 1992, where she was nominated as Secretary. Several of the original committee members still remain involved in the daily running and management of the co-op alongside out sourcing some management responsibilities to CDS.
Rosa remains Secretary today and actively involved in the running of the co-op. Her duties include managing the tokens for the laundry, which she enjoys as she says; "lots of people come in for a chat when picking up their tokens". She also welcomes new members, attends the monthly man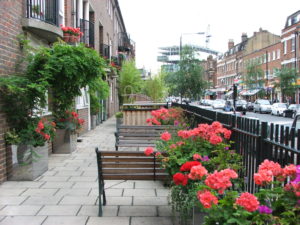 agement committee meetings and receives reports of repairs from residents and arranges for them to be fixed.
Alongside her role at New Cut on the committee Rosa sat on the Housing Services Sub-Committee at CDS for a number of years, working to review all management service to all CDS Client Co-ops. Rosa spoke positively of the experience; "I enjoyed and valued the contact with CDS". Rosa still speaks fondly of New Cut Housing Co-ops relationship with CDS and all the past and current members of staff which the Co-op committee have worked alongside over the years.
Nick Griffiths, Client Relationship Officer at CDS currently works to support the co-op committee and enable New Cut Housing Co-op to thrive. Nick has got to know Rosa through his work with the committee and describes the value of her contribution;
Rosa continues to contribute to the successful running of the co-op and provides a great deal of support to the management committee and all other members. It is always a pleasure to work with Rosa and her experience and knowledge is very useful in supporting my role at CDS, particularly when understanding the history of the co-op.
As Rosa approaches her 100th Birthday, (which she looks forward to celebrating!) she reflects on the benefits that co-op housing has had on her life. Despite admitting to not knowing a lot about co-op housing when joining the committee back in 1992 Rosa now recognises the positive impact co-operative living can bring. Rosa says:
You've got to have friends around you, that's the great thing about co-operatives, people care about each other.
Find out more about New Cut Housing Co-op here. To share a story about an inspiring member of your co-op get in touch with Zoe, we'd love to hear!