At CDS we are keen to share some of the brilliant stories of the co-ops we work with, to celebrate co-op & community-led housing and the people involved in running their communities.
In the 1970s, Alamo Housing Co-op was known as Islington Community Housing (ICH), an independent group, managing around 80 properties owned by the council for Islington's single homeless.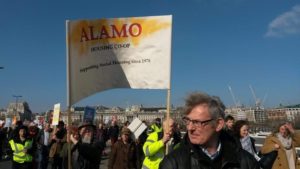 ICH as an independent body carried out maintenance, rent collection and the tenants managed it all. ICH later changed its name to Alamo, an American symbol of resistance and independence. Alamo and it's members have embodied these qualities over the years through their dedication and hard work to successfully run the co-op they live in.
Today, the properties are owned by Network Homes and the co-op also receive some support from us. The Management Committee at Alamo consists of 10 elected volunteer members who oversee everything. They employ a manager who organises rent collection and maintenance, and there is a part time accountant who keeps costs to a minimum and rents affordable for the people who live there. Alamo co-op also manages short life property for people who are homeless, who then move to permanent accommoda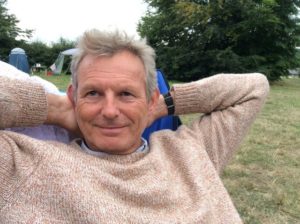 tion when this becomes available.
Martin, Chair at Alamo, shares his personal experience of working alongside other members to manage the day to day running of Alamo to ensure that it thrives. Martin grew up surrounded by co-operation, being part of a co-operative youth group run by the Co-op. He came to live in London in 1975 and discovered ICH while squatting in a house with friends. Martin later moved away and had a family. When he got divorced in 1991, Martin moved back to Alamo and moved into the short life residences in a shared house, on a 1-month renewable notice where he stayed for 18 years. A permanent flat then became available at Alamo, and as a long-standing member Martin was eligible to move into a flat of his own in 2008. During this time Martin volunteered to support Alamo by joining the management committee.
Alamo's current management committee rotate roles to share the difficult tasks and time pressure of being on the committee as well as sharing the experience of learning new skills, such as minute taking or chairing a meeting. A digital committee of members is currently working on developing their website which will enable Alamo to better share their work with the community and increase communication between members. Martin, having a background in lecturing and some confidence with large groups, took on the role of Chair. The management committee at Alamo is made up of 10 members, who work together to make decisions as a co-op. Martin says,
the democratic process and collective decision-making is endemic in what we do.
To ensure the efficient running of Alamo Martin says; " the committee let people know what we are doing, we vote on everything such as service charges, we publish our accounts and keep things transparent". Communicating decisions within the community is a key part of the running of housing co-ops to allow stakeholders to have their say and to ensure they are integrally involved in where they live. The committee treat themselves to some well-deserved pizza at their monthly meetings and a free drink at the AGM to encourage a social atmosphere and to thank members for their ongoing voluntary commitment. As Martin says;
It's quite a tough commitment sometimes with some members working unsocial hours alongside their work on the committee.
Alamo, as an independent co-op allows members to have a voice in the running of the community where they live. Martin values this and says; "the ability to manage ourselves and modify services such as deciding who the contractors are and how we look after our properties, is important." Alamo housing co-op has impacted the lives of those who live there by providing much needed housing for single homeless, Martin says; "Lots of people have grown up in Alamo and people joining us know this is incredibly valuable and they wouldn't have a place to live if it wasn't for Alamo. There is so much housing need for single homeless people".
Co-op housing has the power to build communities as people work together collaborating in organising the running of their co-op. Martin says;
We are like an extended family in some respects. Living in a housing co-op we look out for each other; the manager knows everyone and is very active in his support, checking on elderly or unwell residents who may not have been seen about for a while.
Martin, reflecting on his experience of finding a home at Alamo and the value that Alamo has brought to his own life says;
We are keen to let everyone know just how lucky we are and to be grateful, give back, and continue to keep it going to support others.
Alamo is an inspiring example of co-op housing which demonstrates the dedication and brilliant work of it's members in running the co-op successfully for 40 years and the important role co-ops have in providing housing for those in need. We look forward to hearing more about the successes of Alamo as it continues to thrive.